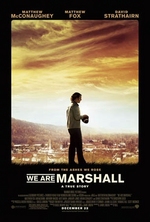 Engine smoke forced a two-hour delay Friday in the charter jet flight of the Marshall football team to East Carolina.
No big deal, except ...
It happened on the game trip to Greenville where on Saturday East Carolina unveiled a plaque near the football stadium entrance honoring Marshall's 1970 team.
The 1970 team died in a plan crash returning from an ECU game 36 years ago.
That crash on Nov. 14, 1970, killed 75 people on a cold, rainy hillside in West Virginia.
A movie, "We Are Marshall," about the crash and the aftermath comes out this fall. Whew, what a soundtrack.
Here's a great little featurette

Tags: Marshall, East Carolina, We Are Marshall