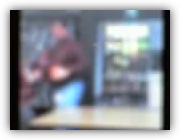 At some point in time, I became a MockTech Celeb, just a hair less prestigious as being on the Forbes Web Celeb 25 which Knoxville's Glenn Reynolds made at No. 7 this week.
I have my own paparazzi email address spottedjackL@gmail.com. Well, not mine, but anyway.
So help the MockTech keep track of me -- if you can!
As you can see from the photo at right, I am elusive.

Tags: MockTech | Forbes web celebs | Paparazzi | Instapundit