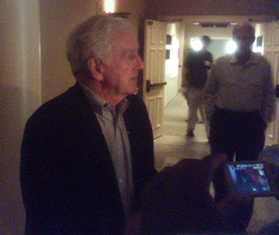 John Seigenthaler got a standing ovation during an impromptu visit to students and faculty attending the Center for Innovation in College Media's workshop on online media.
The 80-year-old Seigenthaler said he wished he was the age of the students because it's one of the most exciting times for journalism. Course, at 80, Seigenthaler is getting more done right now than most college students -- or people in general.
Gannett exec Jennifer Carroll had just finished mapping out the chain's bold plan to remake newsrooms and revamp content. I did a roundup of react in November, but it was fascinating to hear it outlined by a top exec and to hear about some of the successes. I think the speech was recorded and a video interview was done later. Looking forward to finding those on CICM Web site. They'll be worth listening to or watching.

Tags: journalism | first amendment center | center for innovation in college media | john seigenthaler