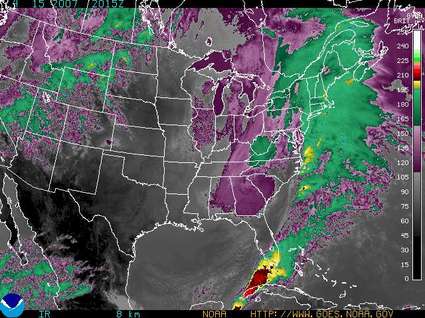 The powerful nor'easter covering the Northeast is also affecting East Tennessee. We've had 1.65 inches of rain in the last 24 hours at the airport and haven't seen any sign of the sun during the weekend.
Meanwhile, nationwide the storm was grounding airlines and created the worst coastal flooding in 14 years, according to AP reports.
The gray day seemed like good weather to llisten to The Little Willies
while I was exercising.
The album is a collection of classic country tunes, including, "Lou Reed."
And we don't mean to sound like we're trippin
But we swear to God
We saw Lou Reed cow tippin
Cow tippin
The Little Willies are Noah Jones, (piano) Alexander (bass), Jim Campilongo (electric guitar), Richard Julian (guitar, vocals), and Dan Rieser (drums). Check it out.
Tags: weather | The Little Willies | nor'easter