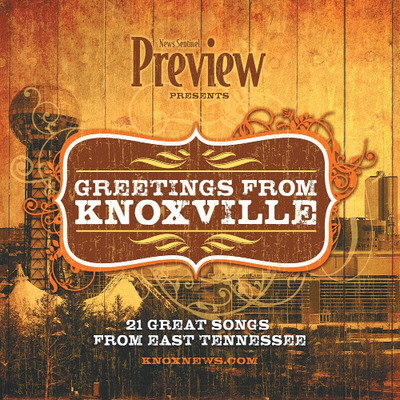 Wayne Bledsoe, co-worker and News Sentinel music writer, has been spearheading an effort to do a CD of Knoxville music sponsored by the paper. He's hassled through record companies, production details and a cover art battle to get what is hoped to be a annual series of local music CDs.
The CD, called "Preview presents: Greetings from Knoxville - Songs by local musicians," is coming out now. Luckily, the CD is longer than the title -- much longer.
Sez Wayne:
People can get a little sick of hearing me talk about how great the music scene is in Knoxville. It hasn't exactly reached the point of chest-bumping and beer spilling, but when I get a phone caller expounding on the greatness of the music in his or her own city, I usually end the conversation feeling sorry for the deluded caller, thinking, "Friend, you have no idea."
You can read his coverage here and here. You can download a zipped file of the CD at the second link!
Track list:
1. Status No — Todd Steed & The Suns of Phere
2. Remember — Christabel and the Jons
3. Where You From (Da 865) — Mr. Mack
4. Sympathy for the King — American Plague
5. New Who — The High Score
6. Oh Murder! — Senryu
7. The Soil We Grew Up In — The Lonetones
8. Say Ho — Scott Miller & The Commonwealth (This track is not available online.)
9. Come Back My Way — RobinElla
10. Twentyfourseven — Jaystorm
11. Something Different — Jag Star
12. Satellite — Sci-Fi Lovestory
13. The Devil, My Only Competition — Nug Jug
14. Long Time — Mic Harrison
15. What Can I Say — Brandy Robinson
16. China Gunpowder — Skeleton Coast
17. I'm the Letter in Your Scrabble — Twinkiebots
18. Covered Up In Trouble — Whiskey Scars
19. Lindsay Weir — John T. Baker
20. Superbionic — Dishwater Blonde
21. A Dance for Marie-Do — Donald Brown
Is Wayne a delusional homer behind those shades? Hear for yourself. It's already in my iPod.

Tags: Knoxville | Tennessee | Todd Steed & The Suns of Phere | Christabel and the Jons | Mr. Mack | American Plague | The High Score | Senryu | The Lonetones | Scott Miller & The Commonwealth | RobinElla | Jaystorm | Jag Star | Sci-Fi Lovestory | Nug Jug | Mic Harrison | Brandy Robinson | Skeleton Coast | Twinkiebots | Whiskey Scars | John T. Baker | Dishwater Blonde | Donald Brown