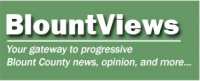 Knoxville's Randy Neal has spun up a new site, BlountViews.com, (named for the county, not the blogging ... or maybe both).
Its mission is to be a hyper-local community web space for liberal/progressive citizens of Blount County to meet, organize, and discuss news, politics, events, and issues of interest to the community.
It's cut from the same Drupal-powered mold as his vibrant KnoxViews.com.
Best of luck with the new site!

Tags: hyperlocal | blogging | Blount County Tennessee