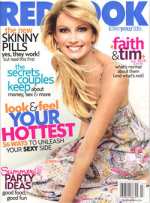 Too funny. Faith Hill gets a makeover, Photoshop style, for Redbook. There's a by-the-numbers description of what was done here.
Via Bob Stepno. who says:
Like Jezebel, I'm at a loss to see "just what Redbook editors/art directors found so abhorrent about an already-above-average 39-year-old country music star and mom to three that they had to retouch her into something more befitting the cover of Cosmopolitan."
I'm with Bob and Jezebel, Faith Hill "as is" is mighty fine.
Tags: Faith Hill | Redbook | Jezebel