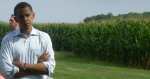 I recently discovered the Rocky Mountain News' M.E. Sprengelmeyer was doing a presidential campaign blog called "Back Roads to the White House." It's been a fresh read on the campaign. Take his McStrategy post. Hadn't read that one before.
What first caught my eye were the photos he's taking and he's a writer; not a photographer. Yet he's capturing what it's like between sound bites.
But maybe what was most interesting is how I found it -- from a Facebook group he created. This evening he had 58 photos posted in his Facebook group.
Some are calling Facebook the new business card; maybe it's the new portfolio?
Tags: presidential campaigns | 2008 elections | M.E. Sprengelmeyer | Facebook