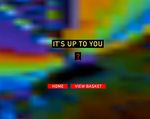 Unbelievable. Radiohead's Oct. 10 release of "
In Rainbows
" is available for whatever you're willing to pay for it! In the shopping cart, click on the question mark beside price and it says: "It's up to you."
This is big!
Shane Richmond
says
"
Radiohead may have done irreparable damage to the industry's traditional business model.
"
And who needs iTunes!