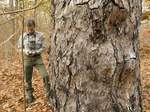 You think of redwoods living a long time, giant awe-inspiring towering trees, but a pine tree?
I noticed in the Charlotte Observer today a story picked up from the Greensoboro News & Record about a stunted, gnarly pine tree that scientists say is 459 years old. Yes, 459 years.
The discovery is thought to be the
oldest longleaf pine in the world
, but it's possible there are others even older where it was found in the
Weymouth Woods Sandhills Nature Preserve
in Southern Pines, N.C.
The tree, which by all accounts is not a majestic looking specimen, was discovered by two researchers from the University of North Carolina at Greeneboro Tree Ring Science Lab as part of drought research.
Henri Grissino-Mayer, a longleaf pine expert at the University of Tennessee, says of the discovery:
"We have found older longleaf pines but they are all dead now," Grissino-Mayer said. He noted that the oldest on record lived 490 years in Florida.

"Finding a longleaf pine dating back that far is exceedingly rare, extremely exceptional."

(Photo by Joseph Rodriguez / (Greensboro) News & Record)