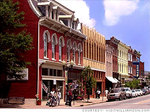 Tennessee is full of small cities, but only one was good enough to m ake Money magazine's 2008 version of the 100
Best Places to Live
, Mon ey's list of America's best small cities. That city is Franklin.
The list was limited to cities with populations between 50,000 and 300,000 and is featured in the August edition. Here is a the
snapshot of Franklin
and how
Knoxville compares
to the Top 10 (that's a great tool).
For those interested, here's the
methodology
.
Franklin is a great choice, but there are numerous cities in Tennessee with a great quality of life.
(PHoto is from visitwilliamson.com)