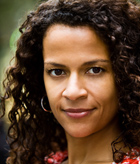 I woke up this morning and lo and behold in my inbox I did see, legit comments on a post I had
written in May 2006
.
What's up with that? Timeless prose is doubtful.
The post happened to be about
Alison Stewart
and I checked Google trends and her name was No. 18 early today, "
medium hotness
" as Google likes to say.
Stewart, was
guest hosting
on MSNBC for Rachel Maddow. She'll be the
guest host again tonight
. Her appearance came after a Monday night guest hosting appearance by
Arianna Huffington
that didn't get good reviews.
Stewart's on TV and then Google sees lots of searches for her name.
Hmmm ...


The 1996 post has remained among the most popular of this blog so there's been a continuing buzz about her at some level, but last night's appearance sparked a few comments.
What's Stewart been doing since she her daytime show on MSNBC ended? She's
been on NPR
. She joined NPR in May 2007 to work on a show called "
The Bryant Park Project
" that ran from Oct. 1, 2007, to July 25, 2008. She returned from maternity leave to do the final week. She's also been showing up on the popular public radio show "
Wait, Wait ... Don't Tell Me!
"
2007 photo by Stephen Voss