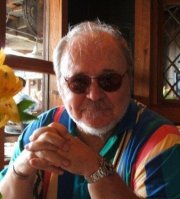 Tom Humphrey has the news about the death of retired UPI Tennessee bureau chief and Tennessean reporter
Duren Cheek
.
Cheek's bio on his Facebook page says:
Spent most of my life in the news business. Started with UPI before graduating from UT. Got so frustrated as a beginner that I marched down to the Marine Corps recruiting office and was ready to sign up. Fortunately, the Sergeant was out for coffee and I came to my senses and got out of there before he got back. I began my career at the Knoxville UPI bureau, located in the News-Sentinel City Room.


Update:
J
im East's obit on Cheek
(via Knight Strivender). The money graph drawn from the book
Down to the Wire UPI's Fight for Survival
:
"Beating the AP was the most fun you could have standing up," he wrote. "One minute you're typing in hog markets, and the next minute you're telling the world that Elvis is dead."