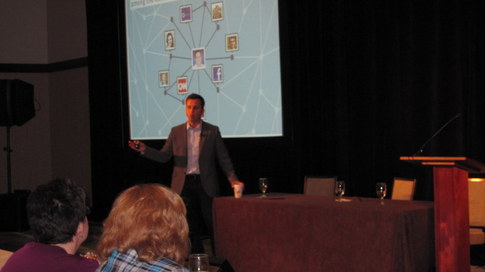 Facebook has begun doing quite a bit of extremely interesting research on how users interact with posts by journalists and on news pages.
Vadim Lavrusik, Journalist Program Manager for Facebook, shared a few highlights of
some of that researc
h on Wednesday at the Associated Press Media Editors conference in Denver.
Here are few points from his presentation deck:
Journalist Analysis: Posts with journalist analysis received 20% referral clicks.
Meaty Post Length: 5-line posts (+60% increase in engagement) 4-line posts (+30% more engagement)
Photos Resonate: Photos received +50% likes than on-photo posts. Links with thumbnails received +65% likes & +50% comments.
Weekend Traffic: Saturday links received +85% clicks (Wednesday receive +37% clicks, Tuesday +12% clicks)
Post Through the Day: Spikes at 7 & 8 a.m., 4 & 5 p.m., 12 a.m. and 2 a.m. (all times Eastern).
He also said posts with questions received 2X times more comments and 64% more feedback overall than an average post.

From the study
, the most effective posting styles are:
Posts that asked questions or sought user input: +64%
Call to read or take a closer look: +37%
Personal reflections or behind-the-scenes posts: +25%
Posts with catchy/clever language or tone: +18%
Lavrusik and Facebook have
created a rich resource for journalists
with guides on getting started, best practices, an explainer on the differences between profiles and pages, and articles on some of the research data.
If you're developing your own following as a journalist on Facebook or are involved in your news organization's social media efforts, this is a must bookmark resource.

(Photo: Vadim Lavrusik, Journalist Program Manager for Facebook, speaking at the Associated Press Media Conference in Denver on Sept. 14, 2011.)